Posts tagged
Steve Gadd
3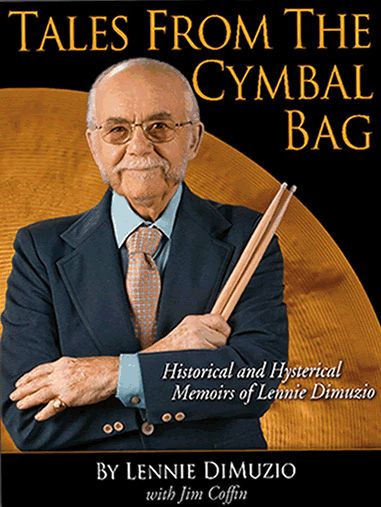 Book: Tales from the Cymbal Bag
Author: Lennie Dimuzio with Jim Coffin
Publisher: Jump Back Baby
DD Rating:





---
Need to drop a hint for a holiday gift? Here ya go! This is a very entertaining chronicle of drumming's most revolutionary periods. It's a terrific book if for the pictures alone.
Tales from the Cymbal Bag is the biography of Lennie Dimuzio, Zildjian's Artist Relations director for decades. A quote from Zildjian says it best: "There's a little bit of Lennie DiMuzio in almost every great drummer's sound." The book begins at the beginning, with trailblazers like Chick Webb, Gene Krupa, Buddy Rich, Louie Bellson, and Papa Jo Jones. (Great stories on all, but the ones of Papa visiting the Zildjian factory are priceless.) It progresses through the rise of rock drummers and the necessary invention of Zildjian A cymbals, on to the rise of the phenom fusion guys and the invention of Steve Gadd's signature sound—the Zildjian K line. (The development of the modern recreation of the K Constantinople sound for Bill Stewart is another great anecdote.) I particularly love the period of the '80s and '90s, which was when the explosion of super drummers and big-time endorsements really had its heyday. There are many pictures and stories involving the giants of that period like Weckl, Gadd, Vinnie, and other monsters on the Zildjian endorser roster.
I think the book is especially interesting for those who grew up drumming pre-2000, before the age of every jackass thinking he's a drum god on YouTube. It seems to me that either because of or in conjunction with Web 2.0 we've lost much of that legitimate hero worship that made the Gadds, Vinnies, and Weckls exalted superstars. There doesn't seem to be as strong a sense of history anymore. Few up-and-comers see further back than Travis Barker and Joey Jordison—and I don't say this as a slight to those two. I'm sure many big band drummers said the same of the mid-20th century modern jazz drummers, who said the same of rock and fusion drummers, and so on. Certainly a topic for another post… It's not just nostalgia that makes Tales from the Cymbal Bag enjoyable, but the sense of honoring what came before.
In addition to the who's-who stories and photos, there are also many great tales that have nothing to do with drumming but with business and tomfoolery. I have on good authority that some of the recollections aren't entirely accurate, Lennie's defection to Sabian is pretty well glossed over, and much of the real shenanigans have been toned down, but this could only be known by true insiders and won't affect in the least the entertainment of the general drumming public. Regardless, Tales from the Cymbal Bag is a fascinating personal account of drumming's most important eras, periods with fundamental importance that we are unlikely to ever see again.
0
This is one of my all-time favorite clips: Dave Weckl, Vinnie Colaiuta, and Steve Gadd at the Buddy Rich Memorial Scholarship Concert on October 14, 1989.
I love the playing of all three of these titans for different reasons, but check out Vinnie's especially nasty chops at 7:03.
1
So, I did this session of rock/pop covers a couple weekends ago at Q Division Studios in Somerville, MA. (Awesome joint, btw.) I'm not too proud to admit that I'm always a bit nervous in the studio. I'm not some cool cat like Vinnie Colaiuta or Josh Freese who breezes into a session and cuts perfect tracks with any range of feels the producer desires. …Keep Reading