Posts tagged
Mike Portnoy
0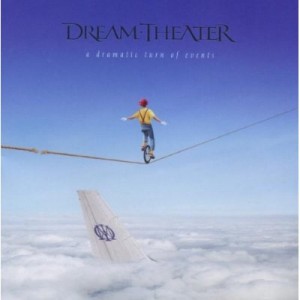 Band: Dream Theater
Drums: Mike Mangini
Album: A Dramatic Turn of Events
Label: Roadrunner Records
Release Date: 13-Sep-2011
DD Rating:





---
There's been a lot of drama with Dream Theater in the last year. Mike Portnoy "quit" (accounts vary 😉 ), and there was a protracted search for a new drummer replete with auditions documented in high-def and the hush-hush worthy of PricewaterhouseCoopers. Mike Mangini, the foregone conclusion of legions of forum trolls, was selected and now the new album has been released. Is it worthy of the build up?
A Dramatic Turn of Events is a great album, for sure. Is it, as the packaging proclaims, "their most powerful album yet"? I can't say that, but probably only because I'm so partial to the older catalog. A Dramatic Turn of Events is, however, a very strong album and the best of the last several Dream Theater releases. The individual musicians and the band as a whole are as inspiring as ever.
How is Mangini specifically? Has he ruined Dream Theater or made it so much more awesome that fans will forget Portnoy ever existed? Neither. The first time I listened to the album, I was a little disappointed that Mangini didn't put a giant thumbprint on it. I wanted to hear stuff that really capitalized on his unique talents. Upon subsequent listens, though, I've changed my mind and have come to the following realizations:
Most importantly, Mangini has said from the beginning of his journey that he did not wish to change the band or be a wholesale replacement of Portnoy. The "voice from beyond" of Portnoy can be heard in Mangini's parts. I believe Mangini accomplished his goal of both serving the music and respecting the vastness of Dream Theater drumming that came before him—and without merely mimicking Portnoy grooves and licks.
Mangini is a very different drummer, though the differences are in the nuances of the playing rather than in huge fills that sound as if played by an octopus. I would venture to say that, on the whole, Mangini's playing is slightly more bare bones than expected. Mangini slams into some of the tightest kick-snare-and-hat grooves and locks them in for extended periods. Another thing: the sound of many grooves and fills is deceiving; keep in mind he's probably doing a lot of stuff with one hand! Further, what sounds like the usual DT gobs and buckets of notes I suspect are more complex than a cursory listen would suggest. I have yet to sit and do a thorough analysis of any of the songs, but the really technical passages and meter changes sound tighter and more rhythmically complex. I'll be able to say that with certainty once I do a better dissection.
I think the Mangini fireworks will emerge live and once he's been in the band for a while. Once he's lived through an album cycle or two with the band he'll be more involved in writing and his unique musical personality will be more present.
Ultimately, the Mangini on this album is Mangini! Despite any sense of obligation and respect, Mangini recorded drum parts he wanted to record. Remove all of his inhuman circus tricks and Mangini is a solid rock/metal drummer playing for the music. YouTube baboons deride him for playing too much, YouTube baboons will deride him for not playing more. The poor guy can't win.
Mike Mangini is the new drummer for an established band. He'll have plenty of spotlight on tour; he wasn't "owed" a big drum feature on the new album. He does an absolutely masterful job of accompanying his new bandmates and creating a work greater than the sum of its parts.
I do have minor quibbles with the album. I'm not one of those lunks who is dead set against the obligatory DT ballad. "Wait for Sleep" and "Silent Man" are great tunes. That said, I feel two sappy ballads is too many on one album. Yes, defenders will say that each is sandwiched between some seriously heavy and dense DT goodness, and I appreciate that. But I can't help but start reaching for the Skip button halfway through "Far from Heaven", and "Beneath the Surface" is an anticlimactic closer after "Breaking All Illusions" just blew you face off.
My only other complaint is the drum production. Portnoy always had an amazing drum sound, and I'm sure effort was made to make Mangini sound different even at the basic sonic level. I find the drums a bit lacking and the cymbals often too shrill in the mix. Part of it is cymbal selection itself. I don't know which Zildjian hi-hats Mangini used to record, but they occasionally sound too small and not "washy" enough when he's really laying into them.
Rather than list a bunch of highlights and favorite tracks, it suffices to say A Dramatic Turn of Events is a great album; get it. I love Mike Portnoy; I will miss Mike Portnoy in Dream Theater. But Mike Mangini is such an obvious and perfect fit for the band. I'm even more excited to hear the next album, which Mangini will presumably have a much greater role writing.