Posts tagged
Avenged Sevenfold
0
Why not make it a trio of Avenged Sevenfold posts this week? Here's the video for "Bat Country" off of City of Evil. Very cool tune, and the video is inspired by Terry Gilliam's imagining of Hunter S. Thompson's Fear and Loathing in Las Vegas. If you're into that sort of thing…
0
Read my quick review of the new album here.
2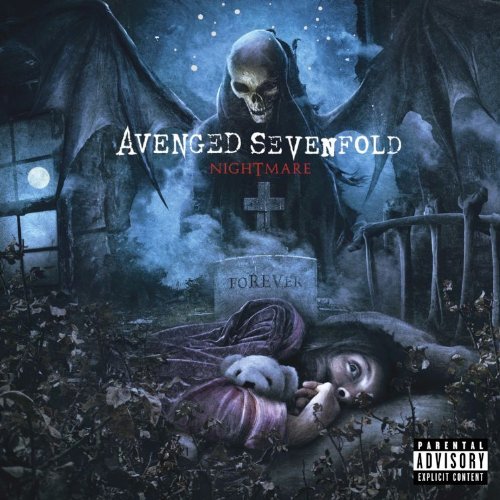 Band: Avenged Sevenfold
Drums: Mike Portnoy
Album: Nightmare
Label: Warner Bros.
Release Date: 27-Jul-2010
DD Rating:





---
Like many metalheads, I was a fan of James "The Rev" Sullivan and was saddened to hear of his untimely (and preventable) passing last December. The Rev's influences were identifiable in his playing, but he was nonetheless a uniquely creative and talented drummer in a genre full of forgettable imitators. City of Evil and Avenged Sevenfold have earned a place among my favorite metal albums.
It's always slightly bittersweet to hear that a band plans to forge ahead after losing a member. Part of me would prefer that more bands would do what Zeppelin did:
We wish it to be known that the loss of our dear friend, and the deep sense of undivided harmony felt by ourselves and our manager, have led us to decide that we could not continue as we were.
– Led Zeppelin*
That's just a general comment and in no way a judgment against A7X. I, for one, am very happy they're still making music.
But how is the new album, Nightmare, without The Rev? It's great. I don't think it's a strong as City of Evil or some of the tracks on the self-titled album, but it's a headbanging good time. At just over an hour in length, A7X maintain their form with tracks consistently longer than 5 minutes. This is so atypical of most metal bands, and it allows A7X to have much more of a developmental arc to their songs. Vocalist M. Shadows, lead guitarist Synyster Gates, rhythm guitarist Zacky Vengeance, and bassist Johnny Christ all tear it up on Nightmare and further their exploration of compelling musical textures and moods. M. Shadows in particular continues to hone his talents and find more nuances in his delivery.
But the question most of us have: How does Mike Portnoy fit in? I would say quite seamlessly. As to be expected, his signature hand-and-foot combinations punctuate most tracks. There are some neat fills for sure, and Mike's footwork and "thrash" style are on display, but there aren't many unique Rev-like moments. I suspect it was more a case of Mike respectfully "toning it down" than a lack of creativity. One minor beef I have is the slight overuse of Octobans. There are some instances that work, but sometimes those high-pitched pops juxtapose the surrounding heaviness a bit too much. The kit sound itself is much tighter than on Dream Theater recordings. I prefer the DT sound, but it would not have fit in with the production on Nightmare. I am very curious to see the kit Mike uses on the tour. From the recording it sounds scaled down, though for Portnoy this might still mean a trailer full of gear.
There isn't a dud on the album, but there are standouts. The title track opens the album with a solid kick and actually bears a similarity to the last album's opener, "Critical Acclaim". "Buried Alive" is a good example of a song that develops over its nearly seven-minute length from a Metallica-esque ballad to a rocker with great guitar solos. "Natural Born Killer" features a brief blast beat and a fast-footed Mike Portnoy. "God Hates Us" is a dark, abrasive track that harkens back to the band's sound on Sounding the Seventh Trumpet. Surprisingly, one of my favorite tracks might be "Fiction", the oddest cut on the album. Its piano runs, half-time 12/8 feel, and vocal melody somehow remind me of King for a Day-era Faith No More. The eleven-minute closer, "Save Me", is yet another showcase of dynamics that ultimately builds to Portnoy's biggest fills on the album, including one that sounds straight out of "Pull Me Under" (from Dream Theater's Images and Words). I see a transcription of this in the near future…
Nightmare isn't anything shockingly new for Avenged Sevenfold, but it's a further maturation of a sound developed over their five albums. Highly recommended.